NORTH CAROLINA AND THE CHARLOTTE REGION
Having lived

in North Carolina for over 30 years, I see the problems and the possibilities. Here in the south-eastern USA we rank 7th in the world in contribution to global warming. This is largely due to high CO2 emissions from coal-fired power plants. The south-eastern region of the USA uses 40 billion gallons of water every day in the production of electricity - 2/3rds of all its water use - (

WRI

) The region also accounts for approximately 40% of U.S. CO2 emissions. We have so much potential if we can see past the invested interests. Below read about some of the issues relating to the environment. An April 2011 survey conducted by NC Sustainable Energy Association found overwhelming support for an increased use of clean energy sources like solar or wind energy. The statewide

public opinion survey found that 83.8% of likely voters think state leaders and elected officials in North Carolina should seek more alternative or renewable energy sources in order to provide consumers and businesses with electricity

.
Recycling video on Mecklenburg County Material Recovery System - view here
Latest news:

June 12 2017: Fossil fuel interests seek to halt North Carolina's growing solar industry. Solar companies created thousands of jobs on the back of a decades-old PURPA law. Now, the state's utility wants to rewrite it. Today, North Carolina boasts more solar capacity than every state except California. North Carolina solar companies owe much of their success to the obscure PURPA federal law passed in the wake of the 1973 OPEC oil crisis. Among other things, PURPA required utilities to buy renewable power from independent producers if it cost no more than electricity from the conventional power plants owned by the utility. Just when PURPA is beginning to do what its drafters intended, Duke Energy wants to hobble the policy. link
______________________________________________________________



Below:
Pollution in NC
Solar Power in NC

Duke Energy's role in the Carolinas - 2014 coal ash spill

Fracking issue debated

Renewables / Wind power
Coal's impact in the state

Coal Ash situation
Nuclear Power
Offshore oil drilling
NC coast and sea-level rise

Other news and green schools in NC


Some useful links in North Carolina





Energy Fact Check - NC -

link
North Carolina Sustainable Energy Association: link


North Carolina Conservation Network:

link


Environment North Carolina:

link




NC Sierra Club -

link
NCWARN - link




BREDL

(The Blue Ridge Environmental Defense League) a regional, community-based, non-profit organization with concern regarding the dangers of nuclear facilities in the region bredl bredl.nuclear


Renewable energy in North Carolina

- read


CleanAirCarolina
CanaryCoalition
Charlotte recycling article

Note: articles from local newspapers will be credited, but they may not always be accessible on line over time.

Pollution in North Carolina
October 2011: Envision Charlotte begins. Financed by Duke Energy and two corporate partners, Envision Charlotte is billed as the first effort of its type. The first phase of the energy-saving green initiative goes live today raising the consciousness of 82,000 uptown workers aiming to trim energy use in uptown office buildings 20% by 2016. It's technically simple, with little cost, to cut energy use in office buildings by 5%, says research compiled by the Massachusetts Institute of Technology's Energy Efficiency Strategy Project. But it's harder to motivate changes in habit. Building owners may see no point in spending on energy upgrades that will save money only for tenants. Office workers don't pay for their electricity so have nothing at stake. Organizers hope the Prius effect - high regard for going green - will take hold uptown. Duke hopes to recoup part of its $4.1 million investment through a state-approved energy efficiency pilot program. The program lets Duke recover the costs, and lost revenues, associated with energy-saving measures by adding a fraction of a cent per kilowatt-hour to nonresidential customer bills.(Charlotte Observer)
Update: June 2014: Uptown Charlotte buildings have reduced their energy use by 8.4% since 2011. Owners of 61 commercial buildings have saved an estimated $10 million so far. Charlotte Observer

November 2009: Pollution up 39% in North Carolina since 1990: North Carolina's global warming pollution increased by 39% since 1990, according to a new analysis of government data released by Environment North Carolina. Between 1990 and 2007, CO2 emissions from burning coal jumped 46.2%.






The Catawba ranked as the most endangered river in the USA.

In 2008, American Rivers, a river advocacy group, named the Catawba River as the most endangered river in the United States. The Catawba-Wateree River is under increasing stress from the growing population in the basin, outdated development practices, and inadequate regulatory protection for the River. In 2009, the U.S. EPA announced that four of the 44 highest hazard coal ash ponds in the United States are located on the Catawba River and all of these high hazard ash ponds are located on reservoirs used as a source of drinking water. A significant portion of the surface water in the Catawba-Wateree basin does not meet basic water quality standards. link
Riverkeepers web site: catawbariverkeeper.org


Emissions of toxins from each of North Carolina's coal-fired plants at this BREDL link.




April 2016:

Solar power more lucrative than crops. Farmland has become fertile territory for clean energy, as solar and wind developers seek more flat, treeless expanses to build. That's also been a boon for struggling U.S. family farms that must contend with floundering commodity prices. "There is not a single crop that we could have grown on that land that would generate the income that we get from the solar farm," said Dawson Singletary, 65, whose family has grown tobacco, peanuts and cotton on a 530-acre farm amid the coastal flatlands of North Carolina. Now he's making money from a different crop: solar panels. link




June 2015: NCWARN and Greensboro church defy law on solar. In a state that does not allow third-party electricity generation, a Greensboro church took a bold stance for environmental justice, bucking Duke Energy and state law to embrace clean energy by placing 20 solar panels on its roof. State law prohibits anyone besides major utility companies from selling electricity. It's not an outright ban on consumer solar panels, but it's close. "This giant monopoly...should not be entitled to the energy from the sun, which God has given to all of us," said Rev. Nelson Johnson, senior pastor at the Greensboro church. Johnson, a North Carolina native, is known across the state for decades of work on social and economic justice issues. Duke Energy is against the church-NC WARN partnership and is following the case closely. link

May 2015:

NC rises to #2 in solar installations.

NC Governor McCrory signed an extension for the state's renewable tax credit into law, but environmental groups still plan to rally against the anti-solar policies of the state's largest utility. "North Carolina has some of the most regressive policies in terms of access to solar energy," said Monica Embrey, a campaigner with Greenpeace - North Carolina is only one of four states that doesn't allow third-party sales: the tax law does nothing to address restrictions on residential solar. North Carolina is now fourth in the nation for installed solar capacity, and there was nearly 13 times as much solar installed in 2014 than in 2010, according to Solar Energy Industries Association (SEIA).

link It was primarily strong utility-scale activity that propelled North Carolina from No. 5 in 2012 to No. 2 last year, overtaking both Arizona and New Jersey. (BusinessJournal)

September 2014:

Duke Energy commits to largest solar farm east of Mississippi.

NC-based Duke Energy announced it will invest $500 million to acquire and construct three large solar farms in the state including a 65-megawatt array that Duke says will be the largest east of the Mississippi River.

While Duke Energy is making inroads into renewable energy sources, the Fortune 250 company is still by and large a fossil fuel venture. The 57,500MW of generating capacity serving over seven million people comes from a mix of coal, nuclear, natural gas, oil and renewable resources. As of 2011, 45% of the company's generation came from

came

coal-fired power plants and 51% from nuclear power. The company predicts coal's percent of the mix will drop to 29% by 2031. link



June 2014:

Two DC Universities to get solar from NC.

American University, George Washington University and GWU Hospital have agreed to purchase more than half of their power from three new solar farms in North Carolina. The Washington, DC-based institutions signed a 20 year power purchase agreement to buy 52 megawatts of solar PV from Duke Energy Renewables. The agreement represents the country's largest non-utility solar PV power purchase. The project will also be the largest PV solar power setup east of the Mississippi River, with more than 243,000 solar panels on three solar farms when completed in 2015. link (More from Charlotte Observer)



Solarize Charlotte

: Solarize Charlotte is a coalition effort to bring cleaner and cheaper electricity to communities in Mecklenburg, Gaston, Union, and Cabarrus Counties. We believe that solar is for everyone. We are working with local contractors, and streamlining the financing and installation process to make solar energy more accessible to homeowners in the Charlotte area. link .





Solarize NC

. Solarize Durham uses a concept invented in Portland, Ore., where neighborhood groups got tired of waiting for the utility company to bring them rooftop solar. A $10 million grant from the Department of Energy is being used to fund residential solar projects across the country, including Solarize Raleigh. Solarize Durham, however, is first, because it didn't wait for government money. NC WARN, the Durham-based environmental nonprofit, took the lead, working with neighborhood associations. Solarize Durham is signing up homeowners now. The more that sign, the lower the installation prices will be. link


January 2014:

Canada helps with 25MW projects in NC.

link


October 2012: In Catawba County Apple is finishing a 20MW solar farm at its Maiden data center that will be the state's largest. It has announced a second of the same size to be built a few miles away. A California company, meanwhile, has applied for a state permit to build a 17.5MW solar farm in Claremont, and Chapel Hill-based Strata Solar is working on two 6.4MW systems in the county. Guilford County now leads the state in operating solar systems with a total capacity of 32MW according to the N.C. Sustainable Energy Association. The 45.5MW connected in 2011 more than doubled the state's total solar capacity. For all that activity, solar energy still supplied only 2% of the state's electricity last year. (Strata plans to build 11 farms, totaling more than 70MW in Catawba and other N.C. counties this year and next.)
May 2012: Apple's Malden data center will use renewables 100% by end of year. Apple plans to use exclusively solar power to run all three of its high-consuming server centres. (The Malden data center will host a 20MW solar farm and be completed by the end of 2012.) Apple plans on using coal-free electricity in all three of its data centres, with the Maiden facility coal-free by the end of 2012.
Solar Update
Duke Energy's role in the Carolinas
Duke Energy is ranked the largest carbon dioxide polluting utility in the US – (page 7 – pdf)
Dan River coal-ash spill: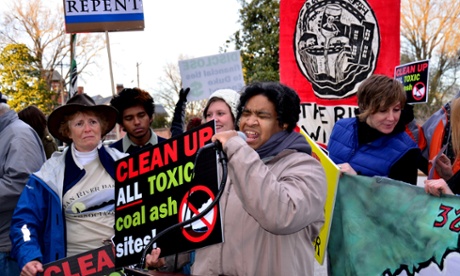 March 2014: More illegal dumping by Duke Energy. North Carolina regulators on Thursday cited Duke Energy for illegally and deliberately dumping 61 million gallons of toxic coal ash waste into a tributary of the Cape Fear River, which provides drinking water for several cities and towns in the state. The incident marks the eighth time in less than a month that the company has been accused of violating environmental regulations. link
Appalachian Voices video on Duke's coal ash legacy - view
February 2014: Major NC ash spill. Duke Energy said Monday that 50,000 to 82,000 tons of coal ash and up to 27 million gallons of water were released from a pond at its retired power plant in Eden into the Dan River, and were still flowing. CharlotteObserver (February 2014) Toxic coal ash has coated the bottom of North Carolina's Dan River as many as 70 miles downstream of a Duke Energy dump where a massive spill occurred early February. link
July 2016: New North Carolina bill allows Duke Energy to dodge coal ash cleanup again. Duke has 14 different coal ash storage sites in the state, and the Department of Environmental Quality has determined that none of them are safe to the public. Seven of Duke's sites in North Carolina, as well as two in South Carolina, are already in court-ordered cleanup. But given the legislature's and governor's cozy relationship with the utility, efforts to clean up coal ash pollution have been stymied, according to experts with the SELC, which has filed numerous suits against Duke under environmental protection laws. link
May 2015: Duke Energy pleads guilty to nine environmental crimes. Duke Energy pleaded guilty to federal misdemeanors related to illegally discharging pollution from coal ash ponds in North Carolina and agreed to pay $102 million in fines and restitution. Duke, the nation's largest electricity company, had already worked out a plea bargain with the federal government at the time of the charges: It also stood as a reminder of the damage caused by the company's environmental negligence. link
Peri's Greenhouse 100 index identifies the top companies responsible for greenhouse gas emission, relying on EPA reporting. Duke Energy currently ranks #2 in the USA producing 1.89% of greenhouse gas emissions at 126,750,270 CO2 equivalent metric tons per year. link

Duke and Progress Energy become largest U.S. utility

- link


November 2016

: Duke pays $27 million to settle shareholder suits that claimed directors improperly concealed plans to fire CEO Bill Johnson once the Charlotte-based company bought Progress Energy Inc. link


July 2012:

Secret deals endanger $32 billion deal.

More officials called to testify on Duke Energy's boardroom coup – New York Times




May 2015: Fracking permits temporarily halted.

A North Carolina Superior Court decision earlier this month suspends drilling permits for hydraulic fracturing, or "fracking," until a case filed by Republican Governor Pat McCrory is resolved. The pending Supreme Court decision will determine whether appointments to the state Mining and Energy Commission are valid. The newly-formed Commission has a key role in the fracking permit process, which includes issuing sub-surface mineral rights to applicants before they can seek drilling permits from the North Carolina Department of Environment and Natural Resources.

link

January 2014:

Fracking panel protects industry.

Fracking companies won the right to keep secret the chemical cocktails they pump underground during shale gas drilling in North Carolina under a chemical disclosure rule approved by the N.C. Mining and Energy Commission. The rule as passed by the commission is merely a recommendation to the state legislature, which will have final say over fracking standards later this year or next year. But as it now stands, the rule puts N.C. among the states that don't require energy exploration companies to turn over corporate trade secrets to government agencies for safeguarding in case of emergency. link
(

The politics of the decision

- link)



October 2011:

The North Carolina General Assembly passed legislation to study natural gas extraction using a method of horizontal drilling and hydraulic fracturing known as "fracking." Fracking injects pressurized water, a mixture of chemicals, and sand into rock formations to create cracks through the rock that release gas.

In other states where fracking has occurred, residents have reported spills and fumes, health problems, contaminated tap water, sick and dying animals, earthquakes, and other problems.

The chemicals injected into the ground, of which up to 80% may be left behind, may include toxic and dangerous chemicals. A recent report

by congressional Democrats listed 750 chemicals and compounds used in fracking by 14 oil and gas service companies from 2005 to 2009. Of those chemicals, 29 chemical, including benzene and lead, are either known or potentially cancer-causing, or pose other serious risks to human health.

Fracking can require 5 million gallons of water for a single well. And what happens to the water-chemical mix afterwards? Southern Environment Law Center

produced a video cautioning North Carolina landowners of the dangers of leasing their property to gas companies - view here


N.C. landowners signing one-sided agreements with fracking companies - link
Organization opposing fracking in NC - Frackfreenc

More on Fracking page.




Renewables



(ACORE) American Council on Renewable Energy summary of North Carolina - link
March 2010: New report - renewable energy could meet nearly all N.C. electricity needs.
A groundbreaking study finds solar, wind, and other renewable power sources could meet nearly all N.C. electricity needs and only six percent of electricity would have to be purchased from outside the system or produced at conventional plants. Dr. Arjun Makhijani, President of the Institute for Energy and Environmental Research (IEER), explained why his center published the report. "This is a landmark case study of how solar and wind generation can be combined to provide round-the-clock electric power throughout the year. North Carolina utilities and regulators and those in other states should take this template, refine it, and make a renewable electricity future a reality." Dr. Makhijani is the author of Carbon-Free and Nuclear-Free: A Roadmap for U.S. Energy Policy.

link

Also see: Duke University study finds renewable energy, including solar, wind and hydroelectric, can provide all but 6% of North Carolina's electricity.

link

See also "Solar makes more sense for North Carolina".


Wind power

March 2017: 1486MW off-shore wind farm years away. Spanish firm Avangrid won the bidding on rights to develop an off-shore wind farm 27 miles east of Kitty Hawk, but construction and permitting could take more than 20 years. link (April 2017: Also it is doubtful that offshore energy will be transmitted directly to North Carolina, meaning the state would likely miss out on revenues. It also appears unlikely that the Outer Banks has the capacity to handle the amount of power the offshore turbines could produce. Therefore transmission would go to Virginia. link April 2017: Avangrid's winning bid, 'No Urgency' for offshore wind in North Carolina - link)

(July 2015) Amazon contracts with Iberdrola to construct a 208MW wind farm in North Carolina - link

July 2014: North Carolina discusses wind power potential. Experts from industry, national labs, and universities will explore wind energy resource assessment efforts related to coastal and offshore wind in the region at a convention in Charlotte. The estimated wind energy potential in the Southeastern states has increased with recent technological advancements for turbines in areas with lower wind speeds. The National Renewable Energy Laboratory estimates that increasing tower heights from 96 meters to 110 meters can create over 300,000 square kilometers of additional land for potential wind development, with significant land added in the Southeast. The Southeast also has an enormous potential for off-shore wind. link

February 2012: NC home to largest off-shore wind on East Coast. A study by Gov. Bev Perdue said North Carolina had the largest offshore wind resource on the East Coast and the state should work with industry to develop the wind energy industry. The 15-member panel said wind energy along North Carolina's coast and sounds offered significant opportunities for renewable energy and for job creation. "North Carolina's extensive coastline and large offshore wind resources appear to make it a prime area for offshore-wind development," the panel said. The panel said there are areas off the North Carolina coast suited for wind farms that could generate a yearly average of 20,000MW of power. The report said producing wind energy is expensive and would increase the cost to ratepayers in the short term but would provide long-term benefits in producing pollution-free energy. The report comes as three wind farms have been proposed along the North Carolina coast. link

All North Carolina energy could be met with offshore wind. (September 2010) A new report says offshore wind could supply all NC energy requirements. The report says offshore wind could meet 100% of the electricity currently generated in NC, DE and MA. link

August 2010: Duke Energy abandons off-shore wind energy. Duke Energy has called off its efforts to develop a small offshore wind facility in a North Carolina lagoon. The company said almost a year ago it would build three wind turbines in Pamlico Sound to demonstrate offshore wind technology. However its analysis of the proposals has suggested permitting, design and construction are "no longer economically viable". link

Piedmont Biofuels: A small renewable energy company producing biodiesel in Central NC - link

Coal's impact in the state




200 Wilmington doctors oppose Titan Cement plant. StopTitan.org was put together by a group of local citizens to provide information about Titan America's plans to build the 4th largest cement plant in the nation, along the banks of the Northeast Cape Fear River, just outside of Wilmington, NC. They oppose this cement plant, proposed by Titan, because of the impacts it will have on our coastal region.
(From Southern Environmental Law Center) Although $4.5m taxpayer dollars have been given to Titan America, the Perdue administration says it does not constitute an expenditure of public money, and also that a full environmental impact does not need to be conducted before North Carolina begins issuing permits for the plant despite mercury fears. (Building the plant would also destroy some 1,000 acres of wetlands)
Grassroots action in Wilmington confronting the Titan Cement plant - 6-minute video - view here


Is America Ready to Quit Coal?


February 2009 - the New York Times ran a compelling article focusing on the proposed Cliffside plant being constructed by Duke Energy in Rutherford County. read

This article did not appear in the local Charlotte Observer.

Duke Energy estimates that about 25% of the coal it burns in the Carolinas comes from mountaintop mines in Virginia, West Virginia and Kentucky. Duke burns

15 million to 16 million tons of coal

each year at its eight Carolinas plants. State laws say utilities have to supply the "least cost" electricity to consumers without defining what comprises the full cost, ignoring external costs such as health and lost productivity resulting from the effects of pollution.





Coal Ash situation in the Carolinas

North Carolina has 33 coal ash ponds, more than any other state. Twenty-nine of these have been rated high hazard by the EPA - meaning human life could be lost if a breech happens at the ash impoundment.
August 2014: NC Lawmakers pass coal ash bill with loose timetable for clean-up. link

Independent journalist Rhiannon Fionn-Bowman reports on coal ash issues in Coal Ash Chronicles. Here is a report on the Charlotte region - Charlotte's coal ash problem
Also check Southeastcoalash.org

See also page on Coal Ash

October 2009:

13 NC coal ash ponds are leaking toxic pollutants into groundwater

.

Duke Energy has 8 coal-fired plants in the Carolinas which produce 2.2 million tons of ash a year. Two-thirds of this is dumped into landfills and ponds. The Charlotte Observer reported in February 2008 that Duke was

forced to close one site in 2008 because of groundwater contamination. As with the TVA spill on December 22, 2008 in Tennessee

(see photo right

), companies assure us there is no risk, and safety is a top concern, but state inspections are only required every five years, and a 2005 storm at the Cliffside plant in Rutherford County caused "major distress and erosion" requiring the dike to be raised by a foot. link

State records show that arsenic, boron and selenium - all toxic in high concentrations - have been found at potentially unsafe levels in groundwater under Duke's ash basins. Duke says there is no evidence that water supplies have been harmed. Tests support that at Mountain Island. But until recently, groundwater has gotten little scrutiny. Unlined ash basins - Duke's plants have 14 - are the type most likely to pollute groundwater, according to another EPA study. Cancer risks from drinking groundwater tainted by arsenic from unlined basins are 900 times higher than the government says is acceptable.

The dangers posed by coal ash are significant in North Carolina. High hazard risk means an impoundment will threaten human life if it ruptures. Many of the earthen dams holding back millions of gallons of coal sludge in North Carolina are in populated areas with homes and businesses that would be destroyed if they fail. Even without a structural failure, groundwater contamination from coal ash storage sites is already occurring in the state.
According to Upper Watauga Riverkeeper Donna Lisenby's review of the data, all thirteen of the tested coal ash ponds were found to be leaking toxic heavy metals and other pollutants into nearby groundwater, including but not limited to: arsenic, boron, cadmium, chloride, chromium, iron, lead, manganese, pH and sulfate. In all, the analysis found 681 instances where levels of pollutants were in excess, ranging from 1.1 to 380 times higher than North Carolina's groundwater standard.

"The results of this data are very alarming, and we now know that some of these ponds have been leaking into the groundwater for years," said Lisenby. "We intend to call for further oversight and clean-up of coal ash pond waste to prevent additional heavy metals and other toxins from being released into our groundwater and rivers." link
2009 - Dependence on big oil, dirty coal could cost North Carolina $782 billion by 2030

.
Between 2010 and 2030, North Carolina will spend as much as $782 billion on oil, coal, and other fossil fuels - 3.5 times the total earnings of all North Carolina workers in 2007. At the same time, pollution from fossil fuels is the number one source of air and global warming pollution and a leading source of water pollution, said Environment North Carolina in their new report. High spending on fossil fuels is largely driven by our dependence on oil, according to the analysis. North Carolina is on track to spend as much as $34.4 billion on oil alone in 2030, 85% of the state's total spending on fossil fuels. read
Nuclear power in North Carolina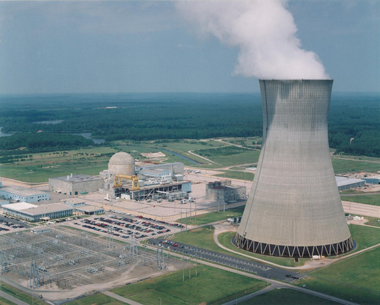 There are three operating nuclear power plants in North Carolina. North Carolina's nuclear capacity, which accounts for nearly 5% of the national total, ranks 6th among the 31 States that have operating commercial nuclear reactors. North Carolina's nuclear capacity is nearly 20% of the State's total capacity but still ranks third behind coal and natural gas. Nuclear generation accounts for roughly a third of North Carolina's total generation, the other two-thirds coming from coal and natural gas.link picture Shearon Harris Unit 1, 20 miles south-west of Raleigh

(July 2013) North Carolina is currently storing 3,670 metric tons of radioactive waste - link

December 2005: The looming nuclear nightmare in North Carolina. The Department of Homeland Security has fingered Shearon Harris as one of the most vulnerable terrorist targets in the nation. Shearon Harris is not just a nuclear power-generating station, but a repository for highly radioactive spent fuel rods from two other nuclear plants owned by Progress Energy creating the largest radioactive waste storage pools in the country. Because the water system that feeds the waste pools is also connected to the Shearon Harris reactor, a pool fire could also trigger a nuclear meltdown. A recent study by the Brookhaven Labs, not known to overstate nuclear risks, estimates that a pool fire could cause 140,000 cancers, contaminate thousands of square miles of land, and cause over $500 billion in off-site property damage. A waste pool fire could spread radioactive debris over a 500-mile radius, including Cesium-137, a carcinogen linked to birth defects and genetic damage. The plant has experienced numerous shut-downs and safety problems. link



March 2016:

Obama bars Atlantic offshore oil drilling in policy reversal.

The Obama administration is reversing course on opening Atlantic waters to a new generation of oil and gas drilling, after a revolt by environmentalists and coastal communities that said the activity threatened marine life, fishing and tourism along the U.S. East Coast. link

January 2016:

O

ff-shore drilling plan meets resistance along Atlantic coast

.

The nascent 2017-2022 plan, to be finalised by the end of the 2016, would lease out nearly 104m acres of the Atlantic, stretching from Maryland down to Georgia, to petroleum companies.

Kure Beach, NC, has become ground zero for seismic testing and offshore oil, and became the 100th east coast municipality to formally oppose drilling or air-gun blasting. link



The logic of drilling for oil off North Carolina's coast.

How much oil is off the Atlantic Coast? We really have no idea. The entire East Coast has been off limits from all drilling-related activity since 1981. That's the last time any data was collected on the area, using seismic equipment that's outdated compared to today's advanced methods. More accurate data is likely to lead to more accurate drilling and fewer "dry wells" that don't produce oil. But it could also revise downward how much we think is out there. The Interior Department's Minerals Management Service (MMS) estimates there could be as much as 10 billion barrels of oil and natural gas in the mid- and south Atlantic. But that's only at a 5% level of confidence. Ask them what they're 95% confident of, and the estimate drops to fewer than 2 billion barrels, or about 100 days of oil at our current rate. So, not much. "We really don't know a lot about what's down there," Interior Secretary Ken Salazar admits. "It may be nothing, it may be a lot. link

October 2008: Forty-five miles off Cape Hatteras, Chevron USA said a decade ago, lay a colossal gamble that sounds sweet today. The oil company reckoned only a 7% chance of striking oil or gas more than 11,000 feet under the sea floor. A federal official called the Manteo Exploration Unit, as the site is known, "a high-risk prospect with world-class potential." And as a congressional ban on offshore exploration in the Atlantic expired last week, N.C. residents wracked by high energy prices are in a mood to drill. But don't expect to see drill rigs anytime soon, experts say. "There's really been no activity off the (N.C.) coast since 1984," said Roger Shew, a former Shell Oil geologist now at UNC Wilmington. "The fact of the matter is that this is all based on old data. "Instruments today can more accurately probe the sea floor for rock formations that trap hydrocarbons. "Oil company estimates of deposits off North Carolina could be overblown. Of 51 wells drilled elsewhere along the Atlantic coast in the 1970s and 1980s, none were commercially viable. Even when previously closed portions of the Outer Continental Shelf open, Shew said, oil companies are most likely to invest in the known reserves in the Gulf of Mexico. Even there, he said, too few drill rigs exist to explore every prospective site. "They are not going to take lightly coming up and poking some holes just to take a look," he said. Any exploration would follow a lengthy process, including hearings and environmental studies, to issue leases. Federal law allows the governor to comment on drilling proposals, and the state can force drillers to comply with coastal-development regulations. The state used its clout to fight off oil companies in the 1980s and '90s, but political opposition to drilling is waning.

Geologists estimates that the mid-Atlantic coast, including North Carolina, holds about 1.5 billion gallons of oil – enough to meet U.S. needs for a little more than two months. The estimated 15.1 trillion cubic feet of natural gas would last about eight months. Kenneth Taylor, chief of the N.C. Geological Survey said, "Things that were not economically feasible then may be now." Because the N.C. coast has no history of oil or gas production, the costs of building pipelines and storage tanks would have to be added to exploration and production expenses, said Taylor. Even then, Taylor added, there's no assurance that any oil or gas that's recovered would be sold in the United States. After sinking millions of dollars into exploration, permitting and drilling, he said, companies could ship the raw product to more lucrative markets such as China. Once they actually drill, if they hit it, none of it might come back to North Carolina.

NC coast and sea-level rise


October 2016: NC coastline at risk. North Carolina's coastline is one of the three most vulnerable places along the Atlantic seaboard to sea-level rise, after South Florida and Norfolk, Virginia. Scientists have predicted that North Carolina could be threatened by a 39-to-55-inch sea-level rise by 2100, enough to inundate not only the barrier islands that comprise the tourist-beckoning Outer Banks, but thousands of miles of the coastal lowlands behind them. link
October 2016:

North Carolina coast and storm consequences.

Coastal North Carolina has been devastated twice in recent years (Hurricane Matthew this year and Hurricane Floyd in 1987). Up and down the East Coast, cities face sea-level rise and intense rainfall events that are challenging their very existence. In the coming years, Princeville and towns like it across the country are likely to see more catastrophic rain events characterized as once-in-500-year or even once-in-1,000-year events. The southeastern United States has suffered a 30% increase in such events since the middle of the 20th century. link
July 2014: North Carolina's Outer Banks is disappearing from the map. Under the combined effects of storms, development, and sea-level rise, portions of this narrow, 200-mile island chain are collapsing. Stanley Riggs, a coastal geologist at East Carolina University in Greenville says, ""We're losing them right now," he says, "In the next ten years, it's going to be awful." link
Sea-level rise for NC coast: Surging Seas, a project of Climate Central, says global warming has raised sea level about 8 inches since 1880, and the rate of rise is accelerating. Scientists expect 20 to 80 more inches this century, a lot depending upon how much more heat-trapping pollution humanity puts into the sky. This study makes mid-range projections of 1-8 inches by 2030, and 4-19 inches by 2050, depending upon location across the contiguous 48 states.
Ancient N.C. records show sea-level rise is related to warmer temperatures. link
Sea-level rise interactive map for NC - link here
August 2012: N.C. governor allows controversial bill on sea-level rise to become law. link
Other news:
The Dogwood Alliance.
The Dogwood Alliance is an environmental nonprofit organization based in Asheville, North Carolina. The group works to achieve broad-based support to end unsustainable forestry practices in the region. Temperate forests are also the world's biggest source of pulp and paper - a force against climate change, erosion and water pollution, a source of shelter for critical plant and animal species and one of the last, best places to experience the power of nature. Since 1996, Dogwood Alliance has championed this irreplaceable resource, safeguarding its environmental and economic value. link
(2-minute video on biomass - view here) April 2016: Burning wood is not the future of energy - link
Washington to Charlotte Southeast high speed rail corridor.
March 2011: State and federal transportation officials said Tuesday they've reached an agreement to release $461 million in stimulus funds to North Carolina to improve passenger train service between Raleigh and Charlotte. Some lawmakers, however, want the state to reject the funding unless the General Assembly approves high-speed rail projects. link) See also sehrs.org

---