Most of the UK's electricity is produced by burning fossil fuels, mainly natural gas (42% in 2016) and coal (9% in 2016). Nuclear provides another 21%. Renewable technologies include wind, wave, marine, hydro, biomass and solar which make up 24.5%. The UK aims to meet its EU target of generating 30% of its electricity from renewable sources by 2020. link Renewable power in the UK accounted for 24.7% of the total electricity produced in 2015, an increase of 5.6% on the previous year. Figures from the UK's Department of Energy and Climate Change show production of wind energy grew 26% year-on-year, as solar (86%) and bioenergy (28%) also grew. Generation from onshore wind rose by 24%, while offshore wind generation increased by 30%. link
Unless greenhouse gases are controlled, Britain faces an Arctic climate this century due to the loss of warm waters from the Gulf Stream. link
_______________________________________________________
Latest news:
April 1 2018: Scotland produces two-thirds of electricity from renewables. Scotland has become a world leader in sourcing its electricity from renewables, after a record year in 2017 for creating eco-friendly energy, figures show. Scotland got 68.1% of its electricity from green schemes in 2017, an increase of 26% on the year before. (The 2016 figure was 54%.) link
_______________________________________________________
Below:
March 2017: UKs greenhouse gases 42% lower than in 1990. There was a 6% drop from 2015 to 2016 due to a dramatic decline in the use of coal to make electricity. Electricity generation saw a decline of 54% in CO2 emissions compared to 1990, but those from transport have actually increased, albeit by just one per cent. Residential emissions have fallen by 15%. However the UK is currently not on track to meet targets to reduce emissions for the late 2020s and early 2030. link
January 2017: Electricity in Britain is cleanest it has been in 60 years. Britain's electricity was the cleanest it had been in 60 years, as coal collapsed and renewables rose to record levels. Less than 10% of British electricity - excluding Northern Ireland - was generated from coal, down from more than 40% in 2012. Wind comprised 10%, solar 3.2%. link
March 2016: Rapid decline of coal use leads to lower emissions. Figures show a 4% reduction in the national annual emissions of CO2, with coal now burning at its lowest level in at least 150 years. The government has pledged to close all coal plants by 2025. link
September 2010:

Imports mask emissions totals.

While statistics show that Britain's emissions are declining, down anywhere from 15% to 21% between 1990 and 2009, if imports of manufactured goods for the British market are included, there has been an actual increase of about 12% according to Professor Robert Watson, the UK government's chief environmental scientist
.
link
(The World Bank records UK emissions in 2013 as 7.1
tonnes per capita - link)
July 2014: UK retains target of 50% emission cuts by 2025. link
Wind Power

May 2017: World's biggest wind turbines go online near Liverpool. The planet's biggest and most powerful wind turbines (at 8MW) have begun generating electricity off the Liverpool coast, cementing Britain's reputation as a world leader in the technology. The 32 turbines bring UK offshore wind power capacity to 5.3GW, more than any other country in the world link (A single rotation of one of those giant blade scould power an average British home for 29 hours. Spinning at their fastest, the blades rotate nearly 30 times per minute. link}
January 2016:

Record-breaking year for wind energy in UK.

According to figures,
11% of the UK's electricity was sourced from wind power in 2015, up from 9.5% the previous year. Overall, wind provided enough electricity to meet the demands of more than 8.25 million homes, almost a third of UK households, compared to 6.7 million homes in 2014.
link
London Array - world's largest off-shore wind farm:

January 2016: Two successive months at the end of 2015 brought the London Array's yearly net output to some 2,500,000 MWh, the equivalent of providing 600,000 UK households with electricity. link
April 2013:

Final turbine comes on line making the London Array the world's largest wind farm at 630MW.
Britain has 3,300 megawatts of installed offshore wind capacity, more than the rest of the world combined. It plans to reach 18,000 megawatts by the end of the decade.
link
October 2012:

The first power has been
generated from the London Array project, around 12 miles off the coasts of Kent and Essex in the
Thames Estuary. Eventually 175 turbines will generate enough power to supply more than 470,000 homes. Already 151 turbines have been installed since construction began in March 2011, and when the first phase is completed by the end of 2012, the 630-megawatt scheme will be the largest offshore windfarm in the world. If approved, the second phase will add enough turbines to bring the total capacity of the windfarm to 870MW. link
Solar Power
April 2016: Solar now 12GW of electricity-generating capacity. Solar power installations have surged in the UK over the past two years, driven by incentives and falling costs. The industry says there is now 12GW of electricity-generating capacity, out of the UK's total capacity of 80-90GW. That growth is likely to flatten out in coming months due to government cuts to incentives. Subsidies for large solar farms end this month, and the number of householders putting solar on their roofs has already plummeted since the changes took effect in February. link [According to Wikipedia, as of November 2016, there was a total installed capacity of 11.429GW of solar power, placing the United Kingdom in sixth place internationally in terms of total installed capacity.]
January 2015: Solar power almost doubled in 2014. link
February 2012: Solar growth achieves 1,000MW in less than 2 years. Explosive growth in solar panel installations on homes, schools and fields in the UK over the past 22 months saw the green energy source pass through the symbolic milestone of 1,000MW on Wednesday. Since the feed-in tariff scheme was launched in April 2010 to pay homeowners and businesses for generating their own green energy, the amount of solar has grown by more than 41 times; it was just 26MW of solar before the scheme. link
Renewables
Renewable power in the UK accounted for 24.7% of the total electricity produced in 2015, an increase of 5.6% on the previous year. link (In 2000, the proportion of the UK's electricity supplied from renewable sources stood at only 2.7%. link)
September 2016: UK will miss its 2020 renewable energy targets, warn MPs - link
November 2017: UK ends subsidies for renewables projects before 2025. The government said there would be no new subsidies for clean power projects until 2025 at the earliest. The policy will only affect projects generating electricity before 2025, so would not stop firms signing contracts for power stations coming online after 2025. That means the backers of new nuclear power stations are unlikely to be affected by the decision, because none was expected to be built by then. But it could be a blow for the companies wanting to build solar farms, onshore windfarms and other clean power plants at an earlier date. link
January 2017: Study says renewables investment in UK will fall 95% through 2020.
Investment in windfarms will fall off a "cliff edge" over the next three years and put the UK's greenhouse gas reduction targets at risk according to the Green Alliance, with investment in wind, solar, biomass power and waste-to-energy projects declining by 95% between 2017 and 2020. More than £1bn of future investment in renewable energy projects disappeared over the course of 2016. link
Scotland

:




November 2014:

Renewable energy overtakes nuclear as Scotland's top power source.

Clean, renewable energy sources

are now Scotland's

number one source of power, according to new figures from the UK's Department of Energy and Climate Change. The figures, which include solar, wind, hydro and biomass, showed that renewable energy generated 32% more electricity than any other single source in the first half on 2014. link
September 2017: Wales should generate 70% of its electricity from renewable sources by 2030, the Welsh Government has said. The current figure for electricity from renewables is 32%. In June, government advisers warned a target to reduce greenhouse gas emissions by 40% in Wales by 2020 was likely to be missed. link

Tidal - Wave Power
January 2013: An analysis suggests that estuary barrages and tidal streams could provide more than 20% of demand for electricity in the U.K. Despite high costs, experts say tidal power is more reliable than wind. link
December 2015: Bristol Channel and Severn Estuary potential. Representatives from local government on both sides of the Bristol Channel and Severn Estuary have signed an agreement to work together to promote, explore and enable the strategic and sustainable development of the region's vast offshore renewable energy resources. Whilst the region has the potential to contribute as much as 14GW of low carbon energy to the UK's energy mix, the estuary represents a complex and unique mix of valuable environmental and economic assets, activities and stakeholders. These must be protected and, where possible, enhanced as energy projects are introduced. link (more on this project on Wave Power page.)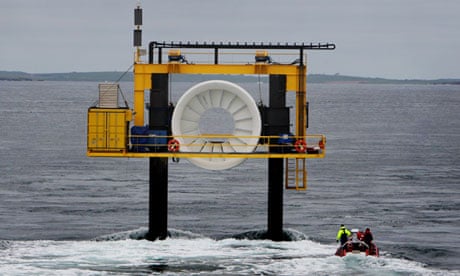 September 2013: Scotland gives green light to Europe's largest tidal energy project. The largest tidal energy project in Europe can get under way after permission was granted for the first stage in the Pentland Firth. A demonstration project of up to six turbines will be built in the water between Orkney and the Scottish mainland following the decision by the Scottish government. When fully operational, the 86MW array could generate enough electricity to power the equivalent of 42,000 homes, around 40% of homes in the Highlands. The site that could eventually yield up to 398 megawatts. link
Britain's nuclear industry
The UK has 15 reactors generating about 18% of its electricity and most of these are to be retired by 2023. In the late 1990s, nuclear power plants contributed around 25% of total annual electricity generation in the UK, but this has gradually declined as old plants have been shut down and ageing-related problems affect plant availability. link (Update: January 2017: The UK has 15 reactors generating about 21% of its electricity but almost half of this capacity is to be retired by 2025.)
January 2018: Communities offered £1m a year to host nuclear waste dump. Local communities in the UK will be offered £1m a year to volunteer to host an underground nuclear waste disposal facility for thousands of years, as part of a rebooted government programme. The geological disposal facility (GDF) is seen by experts as the best long-term solution to storing the estimated 750,000 cubic metres of waste generated by half a century of nuclear power and defence. Nuclear waste is currently stored at about 30 sites, but predominantly at ground level at Sellafield in Cumbria. The GDF project is expected to cost £12bn, spread over a century. link
March 2017: Foreign companies flock to build nuclear plants in UK. link
February 2017: Blow to UK nuclear strategy as Toshiba considers pulling out. .link
(April 2017: UK's Moorside nuclear project in turmoil as Toshiba's French partner backs out. link)
November 2016: Nuclear waste to remain at old UK plants. More contaminated soil and rubble will remain at the sites of Britain's old nuclear power plants rather than be moved off-site to a dedicated dump, under government-backed proposals. link

February 2013: The chances of building any new reactors in the UK are fading fast. link
Problems facing nuclear industry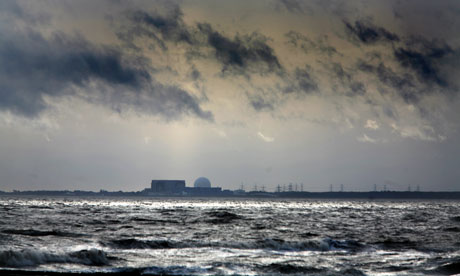 March 2012: Flood risks at nuclear sites. As many as 12 of Britain's 19 civil nuclear sites are at risk of flooding and coastal erosion because of climate change. (Pictured at left - Sizewell nuclear power plant in Suffolk..) Nine of the sites have been assessed by the Environment Department as being vulnerable now, with others in danger from rising sea levels and storms in future decades. Two of the sites for new nuclear stations are said to have a "high risk" of flooding now. Shutdown and running reactors at Dungeness in Kent are also classed as currently at high risk. link
September 2011: Nuclear clean-up will never be completed. Portions of the coast in northern Scotland will remain radioactive for 24,000 years as further attempts to clean up a leak have been abandoned. Tens of thousands of radioactive fuel fragments escaped from the Dounreay plant between 1963 and 1984, polluting local beaches, the coastline and the seabed. Fishing has been banned within a two-kilometre radius of the plant since 1997. link
Coal / Carbon capture
October 2017: UK accepts end of fossil fuel age. The government had to produce a climate plan under its own climate laws. The most important aspect of the new clean growth strategy is its unequivocal statement that tackling climate change and a prosperous economy are one and the same thing, and signals a new, if belated, beginning. It is the beginning of the end of the fossil fuel age. link
September 2017: Britain moves to end the burning of coal. Britain is phasing out its coal-burning power plants, with the last one slated to be shuttered by 2025, if not sooner. In 1974, Britain got 80% of its electricity from burning coal. As recently as five years ago, the figure was 40%. By 2016 it was 9%. link
December 2012: The decline of the UK coal industry. At its peak, the British coal industry employed over a million men in 1908 (today 6,000), and was one of the most important industries in the UK. Transport, power and related industries were all heavily reliant on coal. Even in the mid 1960s, British Rail was still running on coal power (steam). In the 1970s, a strike by coal miners left Britain on the infamous three day week. Coal was Britain's life blood, and without it, the economy could come to a standstill. The decline of the British coal industry started after the First World War, but was accelerated after the Second World War, and in particular, after the miners' strike of 1984. link
July 2016: Carbon capture cut will cost Britain £30bn. The government's cancellation of a pioneering £1bn competition to capture and store carbon emissions may have pushed up the bill for meeting the UK's climate targets by £30bn. The government decided the competition
was aiming to deliver CCS before it was necessary and cost-efficient to do so. link

April 2012: Carbon capture in UK under threat as study raises doubts. Serious doubts have been raised over the prospects for carbon capture and storage in the UK in the first comprehensive investigation into the technology, just two weeks after the government launched a £1 billion competition to build the first demonstration plant. The finding by the government-funded UK Energy Research Council endangers many of the government's assumptions on tackling climate change because ministers' long-term plans rely heavily on making the untried technique work on a massive scale. link (January 2017: Carbon capture scheme collapsed 'over government department disagreements' – link)
(See also CCS page page)

December 2017:

UK frackers running out of time.
The UK's shale gas industry is in a race against time to establish itself before climate change regulations shut it down. With no wells yet tested for gas flow, the industry does not yet know if large-scale production is possible or what the cost of the gas will be, and it won't know until 2020 at best.

link


May 2013:

Pros and cons of fracking in UK.

Fracking got off to a shaky start in Britain, where the early attempts to produce gas near Blackpool appeared to cause minor earth tremors and the Government stepped in with a moratorium that has now been lifted.

Direct application of the American experience isn't easy because the population density in Europe is so much greater and we haven't got the wide-open spaces. There is also likely to be even more opposition from campaigning groups.

There is certainly gas out there, but we have little real knowledge about how much. The figures are always in dispute, not least because it's in the interest of the exploration companies to claim huge finds, as that keeps the investment money flowing in. Probably the best working assessment is that the UK could produce a significant amount of gas by 2030, but probably not enough to make it a game changer. UK environmental regulations are much tougher than those in America, so we can expect a more difficult growth. link
January 2015:

David Cameron says the UK government is "going all out" for fracking

– link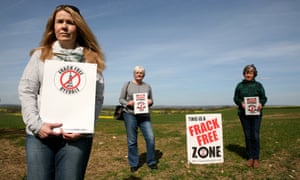 August 2015:

Fracking debate heats up. Weighing up whether fracking is bad depends on how you define "bad". Fracking has given America gas prices that are far cheaper than in Europe but what most critics point to, of course, are the potential health and environmental impacts.

link


The UK protest organization in the UK is Frack-off.org and their site includes a map of all potential sites around the country here

June 2016: UK fracking firm plans to dump wastewater in the sea. Ineos, which holds 21 shale licences, many in the north-west, North Yorkshire and the east Midlands, has said it wants to become the biggest player in the UK's nascent shale gas industry. link


November 2011: Shale gas push would wreck UK's climate change targets. link
September 2013: Fracking would lower energy prices is baseless, says Lord Stern - link


________________________________________________________________



Storm warning: January 2014:

Flood-hit UK must prepare for more extreme weather

.

link