AUSTRALIA


Australia is a small greenhouse gas polluter in global terms, but one of the worst per capita because it relies heavily for its electricity on its abundant reserves of coal, which also make it the world's largest exporter of the polluting fuel. As the driest continent after Antarctica, it is also considered one of the most vulnerable countries to climate change.
Renewable energy provided 14.6% of Australia's electricity in 2015. Rooftop solar power passed
5 gigawatts of capacity in early 2016. link
In 2015, Australia's wind farms produced 33.7% of the country's clean energy and supplied 4.9% of Australia's overall electricity during the year. link Currently the biggest issue in Australia is survival of the Great Barrier Reef and the threat from coal plant development in Queensland (see sections below).
Country profile from Renewable Energy World
Clean Energy Council - link

_____________________________________________





Latest news:




April 19 2018: Australian energy leaders look to end power and climate policy war. Australia has moved a step closer to ending a decade of political bickering over climate and energy policy, with broad support emerging for a national power plan that would also include emissions cuts. State energy ministers agreed to push ahead with a detailed design for a National Energy Guarantee, as proposed by the conservative government, to be put up for approval in August. Carbon policy disputes have claimed the heads of two prime ministers and then-opposition leader Malcolm Turnbull over the past 10 years, killing investment in fossil-fueled power needed for a stable grid and leaving the states to take the lead on renewable energy. Victoria and Queensland had been seen as the main stumbling blocks, as they want to cut carbon emissions more sharply than the government, with more ambitious targets for renewable energy and plans to end coal-fired generation. A rare coalition of business groups, power providers, and energy consumers has urged politicians to back the plan, seeking an end to years of investment uncertainty which has led to blackouts and soaring power prices in Australia. link

March 28 2018: Australia's emissions rise again in 2017, putting Paris targets in doubt. Australia's greenhouse gas emissions in 2017 were again the highest on record when unreliable data from sectors including land clearing and forestry are excluded. Even including land clearing, overall emissions show a continues rising trend, which began in about 2011, putting Australia's commitment under the Paris agreement further out of reach. link

State-by-state comparison of renewable targets

-
see '

Renewables

' below for fuller details

_____________________________________________



Below:

Climate change major threat to Australia
Renewables
Politics and climate action
Great Barrier Reef

Carbon Tax
Drought plagues Australia - desalination

Solar Power
Wind Power

What coal means to Australia / Carbon Capture
Other news

(including nuclear)
Climate change major threat to Australia

December 2017:

Australia's emission targets falling short

. This week the government released projections for Australia's greenhouse gas emissions to 2030. They showed that based on existing policies, far from any cuts being made, the country's rising greenhouse gas pollution would continue to increase to 2030 and beyond.
Australia has committed to reduce its overall greenhouse gas emissions by 26% to 28% below 2005 levels by 2030. But the government has refused to consider emissions cuts in the national electricity market greater than 26%. link


December 2017:

Australia's greenhouse gas emissions highest on record.

Australia's emissions over the past year were the highest on record, when relatively unreliable emissions from land use are excluded, according to the carbon consultancy NDEVR Environmental. The ever-increasing emissions are taking Australia further from both its carbon-reduction commitments made in Paris and the much bigger reductions demanded by the science-based targets, recommended by the government's Climate Change Authority. link
December 2016: Australia is blowing its carbon budget. Australia has emitted about twice what is allowed by the Climate Change Authority's carbon budget since 2013. In the three years and nine months to September 2016, the country emitted 19.8% of its share of what the world can emit between 2013 and 2050 if it intends to maintain a good chance of keeping warming to below 2C. link
January 2015: Climate change will hit Australia harder than rest of world. link
March 2016: Heatwaves - the silent killer. Reducing greenhouse gas emissions rapidly and deeply is the best way to protect Australians from worsening extreme heat events - pdf report by Climate Council - link
Climate change and the end of Australia

.
Want to know what global warming has in store for us? Just go to Australia, where rivers are drying up, reefs are dying, and fires and floods are ravaging the continent. This October 2011 Rolling Stone article presents a picture of Australia suffering the first devastating consequences of climate change as a precursor of what the rest of the planet faces in the near future. With abundant access to potential solar power, yet being the world's greatest source of coal and depending on coal for 80% of its energy, Australia is the lesson we should be paying attention to. Article here
August 2013: Heat-related deaths set to quadruple by 2050. link
February 2009: Australia faces collapse as climate change kicks in.link
Renewables
Renewable energy provided 14.6% of Australia's electricity in 2015, enough to provide power for the equivalent of approximately 6.7 million average homes. This was up on the 13.5% the year before. link
A May 2013 analysis of government data finds Australia on track to not only hit 22% renewables by 2020, but reach an unprecedented 51% of all electricity by 2050. link
October 2017: State-by-state comparison on renewable energy targets. Australia is blessed, and cursed, with a federal system of government. It allows greater diversity, and also causes problems when it comes to the coordination of service delivery. In the last few years energy and climate change policy have also become contentious. The Federal Government's recently announced National Electricity Guarantee and its retreat from Renewable Energy Target (RET), means that the state targets are now much more important. The lack of a national policy makes it harder for the renewable energy industry, and almost guarantees that Australia will not meet the Paris climate change mitigation targets that it has signed up for. It seems likely that renewable energy and climate change policy will remain a politicised battleground in Australia for the foreseeable future. So it is perhaps timely to examine the policies of each of the states. So, how the states currently doing, and what policies will be that they be taking into the energy COAG next month? link
October 2017: Queensland partnership of Tesla and Vestas in 60MW joint venture. Tesla will supply batteries and Vestas Wind Systems will supply turbines for the first phase of a project in north-central Queensland. 43MW of wind will be combined with 15MW of solar in the first phase which could lead to a larger 1.2-gigawatt energy park in the region. link
October 2017: South Australia goes all out for renewables. Recently, South Australia's state government has announced not one but two record-breaking renewable energy projects: the world's largest solar thermal power plant and the world's largest lithium ion battery installation. link
August 2017: Renewable energy generates enough power to run 70% of Australian homes. Australia's renewable energy sector cranked out enough electricity to run 70% of homes last financial year. The first Australian Renewable Energy Index finds the sector will generate enough power to run 90% homes once wind and solar projects under construction in 2016-17 are completed. Renewables, which made up just 7% of national electricity output a decade ago, accounted for 17.2% last financial year. The biggest single source of renewable power remained hydro-electricity (40%), followed by wind (31%) and rooftop solar (18%). Less than 2% came from large solar farms. link
March 2017:Renewable goals - ACT aims for 100% by 2020. Next comes Victoria's with 40% by 2025. link
August 2017: Victoria looks to lock in renewable energy target. Victoria, Australia's second most populous state, has proposed passing laws to lock in a renewable power target of 40% by 2025, (and 25% by 2020). The federal government, controlled by the Liberal Party, has no renewable energy target beyond 2020. States led by the opposing Labor party have long pushed their own green power targets due to a decade of energy and climate policy uncertainty at the federal level. link
April 2015:

Australia could source 100% of power from renewables by 2050

.
link
November 2013:
Tasmania aims for 100% renewables.
link
Politics and climate change
Until Kevin Rudd became prime minister of Australia in November 2007, Australia was the only significant nation not to have signed the Kyoto Protocol along with the USA. Ratification came into effect in March 2008. The so-called 2020 target of 5% reduction (in itself not very ambitious) would be achieved by importing carbon permits from developing countries. Australia's per capita greenhouse gas emissions are among the highest in the world at about 28 tonnes. [Liberal party leader, Tony Abbott, replaced Rudd as PM in the September 2013 election and seeks to cancel carbon tax.Climate change is not a priority for the incoming government. Why Abbott wants to abolish carbon tax- read:] September 2015, Malcolm Turnbull challenged Abbott for the leadership and was sworn in as prime minister.
September 2016:

Officials admit no modelling on how Australia meets Paris pledge. Government officials have acknowledged that Australia's 2030 greenhouse gas emissions reductions pledged at Paris were made without any modelling to show whether existing policies could achieve those targets. link
Australia experienced its hottest year on record in 2013. Temperatures were 1.2C above the long term average, the warmest since records began in 1910

.
link
February 2017:
Australia's carbon emissions rising as coal-fired power ramps up

.
In 2016 overall emissions are up 3.4% compared with 2014-15 and up 7.5% since the Abbott government eliminated the carbon price in June 2014. link

February 2016:

Australian emissions rising towards historical highs and will not peak before 2030

.

Australia's national greenhouse gas emissions are set to keep rising well beyond 2020 on current trends, with the projected growth rate one of the worst in the developed world, a new analysis has found. Australia's emissions are on track for a further 6% increase to 2020. link
Great Barrier Reef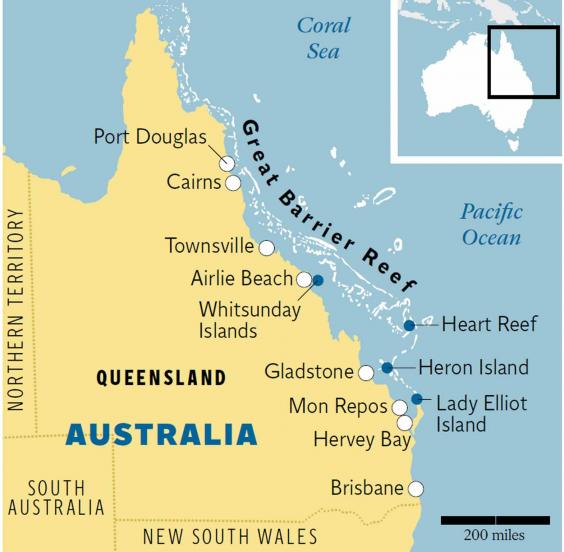 June 2016:

Great Barrier Reef - catastrophe laid bare

- link


April 2017: People come to Great Barrier Reef's rescue. First in the hundreds, then in the tens of thousands, a people's movement grew to defend the reef. Everyday Aussies turned activists and campaigners. Scientists and lawyers came forward with vital expertise. Only finally did the politicians follow the will of the people. Through the power and determination of the Australian people, the greatest marine park in human history was established and the Great Barrier Reef lived to fight another day. Determined Australian efforts to save the reef must be directed to closing down the coalmining industry. link (How did the reef reach terminal stage? - Short video - link)

See also page on Coral Reefs

- link



Carbon Tax


July 2014: Australia's Senate votes to repeal carbon tax. link
July 2015: Carbon tax repeal leads to increase in CO2 emissions. Australia's Climate Council cites new data showing CO2 emissions went up 6.4m tonnes in the last financial year since the tax was axed. The increase of 4.3% has undone part of an 11% fall in emissions during the two years the tax was in place. link

December 2014: Carbon tax results in biggest emissions drop. Greens and conservation group say significant drop in annual emissions shows the carbon price, which was scrapped by the Abbott government, was effective, Emissions reduction accelerated during the two-year span of carbon pricing, with emissions edging down by 0.8% in the first 12 months of the system. link

Pre-2013 election:
October 2011: Carbon tax bill passes. Australia's lower house of parliament has narrowly passed (74 votes for and 72 against) a bill for a controversial carbon tax. It is expected to pass the Senate with the help of the Greens next month. The legislation would force about 500 of the biggest polluters to pay for each tonne of carbon dioxide they emit. link

(60% of Australians say they oppose the tax; after the next election in 2013, a defeat for the government would possibly lead to a repeal of the tax.)
November 2011: Carbon tax would raise $25 billion - link




Drought plagues Australia / desalination



Since the 1860s there have been nine major Australian droughts. The major drought periods of 1895-1903 and 1958-68 and the major drought of 1982-83 were the most severe in terms of rainfall deficiency and their effects on primary production. In south-eastern Australia the droughts of 1967-68 and 1982-83 were notably extreme.

Drought a prominent feature of the Australian scene

. link

July 2014: Australia is drying out due to greenhouse gas emissions. The south-west of
Australia can expect to see average annual rainfall drop by 40% compared with the mid-20th century, and a new model suggests that the main cause is human greenhouse gas emissions. As a whole, the south-west of Australia has seen a 20% decline in winter rain since the 1960s. link (Pictured:Colwell Station in north-west Queensland: Picture: Mechielsen Lyndon)
January 2013: Forecast temperatures now extreme in Australia. Global warming is turning the volume of extreme weather up, with one forecast so unprecedented - over 52C - that it has had to add a new colour to the top of its scale. (Australia's highest recorded temperature was 50.7C, set in January 1960.) link
March 2014: Climate forecast: hot days, higher fire risk, more severe droughts.
The 2014 State of the Climate Report said that Australia's temperature is predicted to rise by 0.6C to 1.5C by 2030; in comparison, between 1910 and 1990 the temperature rose by 0.6C. This will lead to decreases in rainfall in southern Australia. link (2016 Sate of the Climate Report) .
October 2010: It's official. The Big Dry is over. The worst drought in the state's history is officially over after nine years. At its fiercest, in April 2003, drought was declared over 99.5% of NSW. It cost the state $535 million in drought assistance and the federal government $1.5 billion in interest rate subsidies for primary producers and small businesses. link
The Big Dry. Australia is the most arid continent on Earth and perpetually struggles with water scarcity problems that will only worsen as the planetary temperature rises. About two-thirds of Australia receives less than 20 inches of rain a year, and only 10% of the continent receives more than 40 inches. Presently in what is known locally as the "Big Dry", Australia is in the grip of its worst drought in a century which has been causing devastation in the country. More than 10,000 Australian farming families have had to leave their land as a result of the country's ongoing drought. link
Desalination.

July 2010: Australia's five largest cities to spend $13.2bn on desalination plants. The plants are scheduled to be up and running in two years and will draw up to 30% of their water from the ocean. Critics argue that desalination will add to the very climate change that is aggravating the country's water shortage, and urge better water management and conservation. link
Desalination plants necessary for Australia. Desalination plants could supply about one-third of the country's water in the next two years, according to estimates. Since the 1970s, southwest Australia has seen declines of up to 20% in its annual rainfall. In the past decade, a drought said to be the worst in more than 100 years parched much of the country and forced state and local agencies to look to alternate sources of water. Through analysis of snowfall in Antarctica, scientists have pegged climate change as a cause of the extreme weather, and predict that water shortages will only intensify in the future. link
Solar Power
January 2018: World's largest ever thermal solar plant to be built in South Australia. U.S. company, SolarReserve, claims the new plant will be able to power around 35% of all of the households in South Australia. A report released by the Conservation Council of South Australia in 2015 concluded South Australia could be powered by 100% renewable energy by 2030. The report found around 40% of South Australian power came from wind and solar, and over a quarter of houses were fitted with rooftop solar panels. South Australia has the highest penetration of renewables in the world. link
May 2017: Large-scale solar industry takes off as 12 new plants secure finance. Australia's large-scale solar industry now appears to be on solid ground. Construction has already begun at nine of the 12 Arena-funded plants and the others three are a done deal, with the White Rock solar farm in New South Wales the final project to reach financial close last week. At least six more plants being developed in Australia without grant funding, suggesting the grant program had succeeded in establishing a self-sustaining industry. link
March 2017: South Australia to get $1bn solar farm and world's biggest battery. A huge $1bn solar farm and battery project will be built and ready to operate in South Australia's Riverland region by the end of 2017 The farm will enable 330MW of power generation and at least 100MW of storage. link
April 2013: One million homes now with solar. link
July 2012: Solar alone could supply Victoria with energy. link
Wind Power
In 2015, Australia's wind farms produced 33.7% of the country's clean energy and supplied 4.9% of Australia's overall electricity during the year. Five wind farms became operational in 2015, adding 196 turbines and 380MW of generating capacity. These additional projects took the Australian wind industry to a total of 76 wind farms with a combined capacity of 4187MW, made up of 2062 turbines. link
February 2013: Wind energy now cheaper than coal. Wind is now cheaper than fossil fuels in producing electricity in Australia according to data compiled by Bloomberg. Relying on fossil fuels to produce electricity is getting more expensive because of the government's price on carbon emissions imposed last year, higher financing costs and rising natural gas prices, BNEF (Bloomberg New Energy Finance) said. The cost of wind generation has fallen by 10% since 2011 on lower equipment expenses, while the cost of solar power has dropped by 29%. link
August 2011: New 600MW farm announced. South Australia already has 534 turbines installed producing 1,150MW of wind-generating capacity, which is more than 21% of the state's total electricity generation." A 600MW farm will catapult the state towards a target of 33% of renewable-energy generation by 2020 according to South Australia Premier Mike Rann. The project should be complete by the end of 2015. link
August 2010: Southern hemisphere's largest wind farm. The largest wind farm in the Southern Hemisphere will be built in Australia at Macarthur near Hamilton, 260km west of Melbourne, Victoria. The 420 MW Macarthur Wind Farm will abate more than 1.7 million tons of greenhouse gases every year. link
What coal means to Australia
August 2017: Australia's fleet of coal plants could be gone by 2040. About a fifth of the country's coal capacity has disappeared since 2012; the Muja AB plant refurbished in Western Australia has been a costly disaster and the 13th station to shut in that period; no new ones have opened this decade. For all the talk of new coal-fired power plants, none are in development. link
Controversial Adani plant in Queensland


December 2017: End in sight - Adani close to defeat. Environmentalists victory as Chinese banks turn down finance; the huge coal mine in Queensland seems doomed. link

April 2

017:

Coal talks in India.

Australia wants coal to play "a very big role" in powering India's future despite a glut in the local market and clear signals from Delhi that it aims to eliminate imports of the fossil fuel as soon as possible. India's Adani Group

is the mining company that will soon decide whether to begin building the world's largest coalmine in Queensland's Galilee basin.

As well as concerns over its environmental impact, the $16bn project has been dogged by questions over its economic viability.

link


(

November 2017 update - Labor victory a 'death knell for Adani' coal mine - link

)



Proposed Carmichael coal mine and Adani connection.
March 2017:

Fierce debate over monster coal mine.

The so-called Carmichael mine, delayed for six years by a stream of legal challenges and environmental impact assessments,

would be one of the biggest mines on the planet.

If the $12.5bn project goes ahead in Queensland's Galilee Basin - and latest indications are that it will - the coal produced there will emit more CO2 into the atmosphere every year than entire countries such as Kuwait and Chile, claim its opponents. link


Official site for the project

- link
May 2016: Australia is the world's largest coal exporter, accounting for 35% of all coal exported, with the majority of the tonnages travelling to nearby neighbours in Asia, primarily Japan and China. link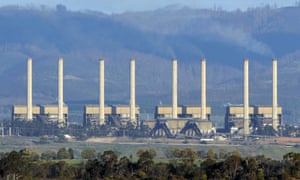 January 2017: Australia's coal plans twice as costly as renewables. Researcher says new coal plants aimed at reducing emissions would cost $62bn, while the cost using renewables would be $24-$34bn.A plan for new coal power plants, which government ministers say could reduce emissions from coal-generated electricity by 27%, would cost more than $60bn. Achieving the same reduction using only renewable energy would cost just half as much -between $24bn and $34bn - the report found. link (Pictured: Hazelwood power station in Victoria – photograph: Paul Crock – Getty Images)
April 2016: Air pollution increases 69% as coal named top polluter. Air quality across Australia has deteriorated to alarming levels with the coal industry the nation's worst polluter. Nationally, total PM10 emissions have increased 69% in one year, and 194% in five years. . link

March 2015: Australia urged to shut coal-fired power plants urgently as analysis reveals huge emissions. Unlike the US, China and parts of Europe, Australia has few regulations in place to limit emissions. link
Carbon Capture.

October 2012: According to the CSIRO, (Commonwealth Scientific & Industrial Research Organization) CCS technology has moved a step closer. However a draft report and associated documents reveal a far more complex and troubling picture. Back in March the CSIRO announced that carbon capture technology had moved a step closer. Apparently, a study of "post combustion capture", whereby CO2 is removed from the exhaust gas of a power station, had been technically proven at pilot scale. The report put the price tag, which would install this technology on just half of Australia's coal-fired power stations, at $52 billion up front and another $5 billion per year in operating costs. This is excluding the additional cost of transporting, storing, and monitoring the CO2. link

CCS projects in Australia - pdf

December 2012: The coal industry says it has made a giant step forward with the opening of Australia's first 'clean coal' carbon capture plant in Biloela, central Queensland, a 30MW plant. While capturing 85% of CO2 gases, the operators still seek somewhere to store the gas. link
April 2013: Australia's abundant coal could be worthless. If the world's governments fulfil their agreement to act on climate change, Australia's huge coal industry is a speculative bubble ripe for financial implosion. The warning that much of the nation's coal reserves will become worthless as the world hits carbon emission limits comes after banking giant Citi also warned Australian investors that fossil fuel companies could do little to avoid the future loss of value. link
Other news
March 2017: Big Australian banks invest more in fossil fuels. Australia's big four banks invested three times as much in global fossil fuels as they did in clean energy in 2016, despite pledging to help Australia transition to a low carbon economy. The banks provided a combined $10bn to projects around the world that expanded non-renewable energy, despite publicly supporting a 2C global warming limit laid out in the Paris climate agreement. link
August 2016: Warning of extreme events for Australia. A new report says the upper end of current climate extremes would be "the new normal" at 1.5 degrees warming - which could be just 10 to 20 years away under the current trajectory. At 2 degrees, the picture is much less clear – the climate system would move into uncharted territory. Several countries – including Australia – have been assessed as not having policies that can limit warming to about 3 degrees. link
Nuclear Power
Although Australia has no nuclear power stations, it has almost 40% of the world's known uranium reserves, of which it supplies only 19% of the world market.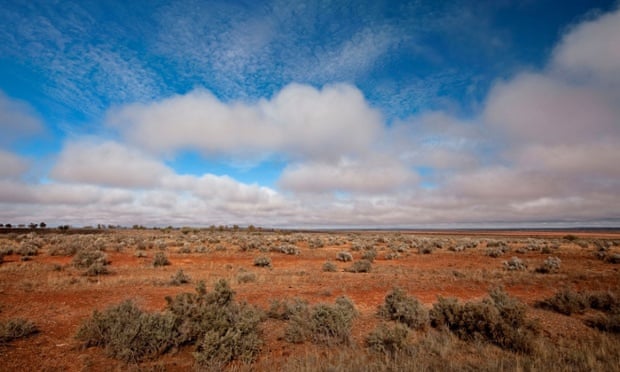 February 2016:
Australia's outback could store world's nuclear waste.
A royal commission into the nuclear fuel cycle has found storage and disposal of used nuclear fuel from other countries is likely to deliver substantial economic benefits for South Australia.
South Australia was suitable because of its low levels of seismic activity, arid environment in many parts of the state, stable political structure and frameworks for securing long-term agreement with landowners and the community.
Federal minister for resources and energy Josh Frydenberg said the proposed national nuclear waste facility would only store low and intermediate level waste. "It cannot and will not be built to store radioactive waste generated overseas or high level waste."
link

November 2015:

Nuclear priced out of Australia's future

.

Australia's official economic forecaster has finally admitted that the cost of nuclear energy is more than double other clean energy alternatives, suggesting it would likely play no role in a decarbonised grid based around lowest costs.
link
A growing population is another source of future problems for Australia. The Optimum Population Trust, an environmental organization in England whose concern is with the impact of population growth on the environment, determined that at the current standard of living (as determined by the WWF's Living Planet Report 2002), the optimum population for Australia is 10 million and at a lower standard of living it is 21 million. (February 2016: Australia's population reaches 25 million - link) Government estimates that the population will increase by 53% by 2050 to 33 million.
Australia's population – what is sustainable? link

April 2016: Sea-level rise. Website reveals which homes will be swamped by rising sea levels. Coastal Risk Australia combines Google Maps with detailed tide and elevation data, as well as future sea level rise projections - link