Facts



Solutions





International



| | |
| --- | --- |
| | AUSTRALIA |
| | BRITAIN |
| | CANADA |
| | DENMARK |
| | SPAIN |
| | CHINA |
History of Kyoto

Doha - COP 18 talks

COP 17 - Durban 2011


Between Cancun and Durban

Why Copenhagen talks failed

Actions around the world in 2010



Intergovernmental Panel on Climate Change
from Kyoto to Warsaw, 2013
The UN talks commenced in 1992 with annual conferences since then producing no comprehensive binding agreements. The
Kyoto Protocol came into force February 2005; disagreements at subsequent international meetings (Copenhagen, Cancun etc.) have indicated that at the governmental level, ability to bring climate change under control is failing. With
global warming
accelerating and rising carbon emissions, the world is moving too slowly to prevent serious damage to the ecosystem on which life depends. This raises prospects of rising sea-levels, food shortages and increasingly extreme weather disasters such as floods and droughts which have occurred with greater frequency, particularly since 2010.
Hope may rest increasingly on initiatives by other organizations such as IRENA, the C40 cities imitative, and actions by business leaders and entrepreneurs to act where governments, especially Canada and the USA, which are deadlocked and subject to pressure from "Business-as-Usual" energy corporations which have led to a virtual paralysis in leadership.
January 2014: Analysis. The diplomatic road to a new climate agreement may not end in Paris next year. A review of previous breakdowns since Copenhagen, and too high hopes for Paris talks. link
Warsaw, Poland - Final Day - November 22
Nov. 23: Last minute deal saves process. COP19 approved a pathway to a new global climate treaty in Paris in 2015. By themselves, the compromises are not major breakthroughs and delegates know that far bigger battles lie ahead. Harjeet Singh from Action Aid said, "It is the barest minimum that was supposed to be achieved at Warsaw on loss and damage anyway. A few rich countries including the US held it hostage till the very end". link
November 20: Talks collapse with walk-out. Representatives of most of the world's poor countries have walked out of increasingly fractious climate negotiations after the EU, Australia, the US and other developed countries insisted that the question of who should pay compensation for extreme climate events be discussed only after 2015. link
November 6:
As delegates from around the world descend on Warsaw for talks toward a new climate treaty, scientists are issuing more and more dire warnings that time is running out to avoid dangerous global warming.
link
November 15: Adaptation cash becomes 'red line' for developing world. Developing countries say they need money now to help adapt to a changing world. Failure of rich countries to fulfill a promise made in Copenhagen four years ago threatens to seize up efforts to reach a global agreement on emissions. link

An impassioned speech by Yeb Sano of the Philippine delegation has focused attention on the serious consequences of inaction following typhoon Haiyan - view here
Other pages on international actions:
IRENA

International Renewal Energy Association

Other initiatives -

C-40Cities / Branson's Carbon War Room / Rio+20

:
Below:
History of Kyoto

Doha - COP 18 talks

COP 17 - Durban 2011


Between Cancun and Durban

Why Copenhagen talks failed

Actions around the world in 2010
What happens next?

The Doha conference reached an agreement to extend the life of the Kyoto Protocol until 2020, meaning that a successor to the Protocol is set to be developed by 2015
and implemented by 2020.
UNFCCCC's 19th Conference of the Parties (COP-19) concludesd in Warsaw, Poland November 2013.
COP 20 to take place December 3-14, 2014 in Lima, Peru.
COP 21 climate conference in 2015 will be in Paris.


Background

.

The series of annual UNFCCC

(United Nations Framework Convention on Climate Change)

talks can trace its roots to the 1992 Earth Summit in
Rio de Janeiro
,
Brazil
. In 1997 it spawned the Kyoto Protocol which was initially adopted on
December 11, 1997
and entered into force on
February 16, 2005
. It is a protocol to the
UNFCCC and
as of January 2009, 183 parties had ratified the protocol (though not the
USA
). Under this Protocol, industrialized countries agreed to reduce their collective greenhouse gas (GHG) emissions by 5.2% from the level in 1990. T
he Kyoto Protocol established legally binding commitments for the reduction of four greenhouse gases - carbon dioxide, methane, nitrous oxide and sulphur hexafluoride.
(See Severn Suzuki's speech at the Rio conference here)



Kyoto extended after 2012

: A second commitment period will begin on January 1, 2013 and end December 31, 2020. This period will bridge the gap between the end of the first commitment period and the beginning of the next legally binding climate agreement, to be created in the Durban Platform track, which is set to be finished in 2015 and take effect in 2020.
What is the Kyoto Protocol?


With 191 member states, the U.N. accord is the only global treaty with binding limits on climate-altering greenhouse gases. The treaty commits nearly 40 developed "Annex 1" nations that emit around a quarter of the world's emissions to cut them domestically by an average 5% by 2012 from 1990 levels. The protocol's first leg runs out Dec. 31 2012, and the Doha talks must agree on the modalities of a second commitment period from 2013, a move agreed upon at the last round of U.N. climate talks in South Africa a year ago. The key issues in Doha are how long the second commitment period should last, who will back it and what targets to set.


Proceedings of the National Academy of Sciences, say that 97% to 98% of climate researchers actively publishing in the field of climate change agree with the main conclusions of the IPCC that most of the "unequivocal" warming of the average global temperature over the second half of the 20th century is because of people.
link


What is the IPCC? The Intergovernmental Panel on Climate Change (IPCC) is the leading international body for the assessment of climate change. It was established by the United Nations Environment Programme the
(UNEP)
and the World Meteorological Organization
to provide the world with a clear scientific view on the current state of knowledge in climate change and its potential environmental and socio-economic impacts. It is endorsed by the UN General Assembly
.

The IPCC is a scientific body. It reviews and assesses the most recent scientific, technical and socio-economic information produced worldwide relevant to the understanding of climate change. It does not conduct any research nor does it monitor climate related data or parameters.
Thousands of scientists from all over the world contribute to the work of the IPCC on a voluntary basis.
The IPCC is an intergovernmental body. It is open to all member countries of the United Nations (UN) and WMO. Currently 194 countries are members of the IPCC. Governments participate in the review process and the plenary Sessions, where main decisions about the IPCC work programme are taken and reports are accepted, adopted and approved. The IPCC Bureau Members, including the Chair, are also elected during the plenary Sessions.
link to IPCC
September 2013: Climate scientists call for overhaul of IPCC. A broad array of leading climate scientists and policy specialists are criticizing the panel: they believe the main conclusions of the IPCC may be too general and too conservative to convey a clear message about the grave threat of warming and to inform policies to address local climate change issues. They say that after 25 years it might be time to overhaul the organization and refocus its research priorities. Now that certainty of man-made climate change is established, the world's need is for faster, more focused and more targeted research. link
November 2012: Next IPCC report will shock nations into action. The next United Nations IPCC climate report (due to be published in late 2013 and early 2014), will ''scare the wits out of everyone'' and should provide the impetus needed for the world to finally sign an agreement to tackle global warming according to the former IPCC head Yvo de Boer, saying "I'm confident those scientific findings will create new political momentum.'' link
May 2013: Alternative approach to Kyoto will probably fail. A U.S.-led plan to let all countries set their own goals for fighting climate change is gaining grudging support at U.N. talks, even though the current level of pledges is far too low to limit rising temperatures substantially. The approach, being discussed this week at 160-nation talks in Bonn, Germany, would mean abandoning the blueprint of the 1997 Kyoto Protocol, which set central goals for industrialized countries to cut emissions by 2012 and then let each work out national implementation. Attempts to agree a successor to Kyoto have foundered above all on a failure to agree on the contribution that developing countries should make to curbing the industrial emissions responsible for global warming - greenhouse gases. President Barack Obama's administration now says each nation should define its "contribution" to a new U.N. accord - a weaker word than past U.S. demands for national "commitments". The next ministerial conference to try to reach a deal is scheduled for Paris in 2015. However, all sides say the initial national promises will be insufficient to rein in greenhouse gases. link
August 2013: The more CO2 emissions are cut, the better the world economy will be. An IPCC report shows that the more carbon emissions humanity cuts, the better the global economy will perform over the next century. The last report, the AR4, was put out in 2007, and while the AR5 is not due until 2014, numbers from it are already making their way out. The new models build in greenhouse gas emissions, climate changes, population changes, technological development, land use, and a host of other factors and more importantly they also model what would happen if governments got proactive about cutting carbon emissions through policy changes. link
Doha - COP 18 talks - December 2012
December 2012.

The controversial and ineffective Kyoto Protocol's first stage comes to an end today,

leaving the world with 58% more greenhouse gases than in 1990, as opposed to the 5% reduction its signatories sought. The Kyoto protocol was adopted in 1997, but didn't to come into force until 2005. In the intervening eight years, countries set reduction targets for themselves and ratified the agreement.

link
December 8: Doha talks end today in colossal failure. Talks have stalled for a host of reasons, though most developing nations blame rich countries like the United States, Canada and Japan for refusing to sign an interim successor agreement to the Kyoto Protocol that would bind them to emissions reductions. link
December 8: Kyoto Protocol survives. At the UN's annual climate change conference just concluded in Doha, 194 countries agreed to an extension of the Kyoto Protocol through 2020. But the second phase still omits the world's two biggest greenhouse gas emitters, China and the United States. Without agreement at Doha the protocol would have expired in just 23 days. Governments agreed to work toward a universal climate change agreement covering all countries from 2020, to be adopted by 2015, and to find ways to scale up efforts before 2020 beyond the existing pledges to curb emissions. link
November 2012:

Doubts on $30 billion climate aid pledges being met.

The question over how much finance was provided under the "fast-start" program has the potential to undermine trust between donor and recipient nations during two weeks of Doha talks. "We can't say if it was delivered or not because we can't be sure," said an envoy who speaks for a bloc of African nations referring to the $30 billion pledge. link
Cop 17 - Durban - November/December 2011
The Conference of the Parties of the United Nations Framework Convention on Climate Change (UNFCCC) - or its shorthand "COP17" - will be held in Durban, South Africa from

November 28 to December 9

2011.

No one expects that any significant new agreement will be signed, and there

will be another, bigger conference at the end of 2012 in Rio de Janeiro.

December 2011: Climate talks end with late deal. link
November 2011:Canada to withdraw from Kyoto protocol link
November 2011: Rich nations 'give up' on new treaty until 2020 link
October 2011: UN negotiators may seek to extend the Kyoto Protocol link

October 2011: The death of the Kyoto process? There seems little possibility that the summit in Durban will produce an emissions reduction agreement, meaning the world will soon lack any binding CO2 targets. Europe may soon find itself alone in the fight against global warming. link

__________________________________________________


U.S. is structurally unable to ever sign up to a global climate treaty with binding targets. Where do the talks go from here? For most of the last 20 years, people worried about climate change have been trying to deal with the problem by negotiating a binding global treaty to reduce the emissions that cause it. But after years of high-profile climate talks, at Rio, Nairobi, Bali, Copenhagen, Cancun, "the negotiations haven't got us close to that deal," says Robert Falkner, an expert on international relations and global governance at the London School of Economics. Even Christina Figueres, the United Nations' climate change chief, now says publicly that "this planet is not going to be saved by any big bang agreement." "The fact is that it's unreasonable to expect that there is going to be one large comprehensive agreement that will address all issues and will miraculously change the way that we've been doing things for a hundred years," she said before the last major climate negotiations, in Cancun.

With the world on a path to a 4-degree Celsius or higher temperature rise by 2100, are the negotiations simply a waste of time and resources? Is there a better way of trying to rein in emissions and help the world's more vulnerable people deal with the impacts of climate change? A growing number of climate experts say the answer is to try adopting a "building blocks" approach to addressing climate change. That means pushing forward with thousands of smaller international, national, regional and local efforts to address the problem while keeping the talks going to, with luck, provide a framework for all the disparate pieces down the road. "That is, I would argue, the future for climate negotiations," Falkner said at a recent conference on climate change in the Caribbean. "It is a second-best future but one we must accept as a fact."

Efforts to negotiate one global climate treaty, he said, face several fatal flaws. The first, as virtually everyone is aware by this point, is that the United States, the world's second biggest carbon emitter behind China, and the biggest historical producer of the gases, is unlikely to ever join a binding climate treaty. Because of the country's divisive politics and the need for a two-thirds vote in the Senate to ratify any international treaty, "I would argue the U.S. is structurally unable to ever sign up to a global climate treaty with binding targets," Falkner said. link




Between Cancun

and Durban 2011




Bonn 2011 wrap-up -




June:

Bonn climate talks end with no agreement on Kyoto, finance. link

Cancun wrap-up

-

The world's governments agreed to modest steps to combat climate change

and to give more money to poor countries, but they put off until next year tough decisions on cutting greenhouse gas emissions.



May 30 2011:

Major nations abstain from Kyoto process.

Russia, Japan and Canada told the G8 they would not join a second round of carbon cuts under the Kyoto Protocol at United Nations talks this year and the US reiterated it would remain outside the treaty. The future of the Kyoto Protocol has become central to efforts to negotiate reductions of carbon emissions. They argued that the Kyoto format did not require developing countries, including China, the world's No. 1 carbon emitter, to make targeted emission cuts.Last Thursday US President, Barack Obama, confirmed Washington would not join an updated Kyoto Protocol. The US, the second-largest carbon emitter, signed the protocol in 1997 but in 2001 the then president, George W. Bush, said he would not put it to the Senate for ratification.

link [

June 9:

Canada confirms that it would not support an extended Kyoto Protocol after 2012, joining Japan and Russia in rejecting a new round of the climate emissions pact

- link]

April 2011:

Bangkok.

Delegates from nearly 200 countries began a six-day U.N. meeting in the Thai capital Bangkok today on crafting a tougher climate pact that boosts global efforts to curb emissions from industry, farms and deforestation.

The radiation crisis at the quake and tsunami-crippled Fukushima Daiichi nuclear complex in Japan will probably have repercussions on the international climate negotiations. link



Why Copenhagen and other talks failing

October 2012: Why climate talks may be failing. According to a new study, focusing on the 2°C goal guaranteed climate talks failure as there's no hard evidence that any specific temperature target marks a dangerous threshold, with clear consequences for crossing it. Instead, there is plenty of evidence that more and faster warming entails greater risks of major consequences, such as the collapse of the polar ice sheets. This uncertainty, the study argues, provides an incentive for countries to be free-loaders, jumping on board with the agreement without making potentially costly emissions reductions. link

Analysis of Copenhagen - What was agreed and what was left out
Editorial on Copenhagen by Alan Burns - read

May 2012: Climate talks stall with nations 'wasting time'. The latest round of UN climate talks in Bonn, the first since last December's summit in Durban, has made little progress, with observers reporting angry exchanges between rich nations, fast-industrialising ones and those prone to climate impacts. "It's absurd to watch governments sit and point fingers and fight like little kids while the scientists explain about the terrifying impacts of climate change," said Tove Maria Ryding of Greenpeace International. link

Actions around the world in 2010


September:

Meeting in Geneva.

About 45 nations met
to seek ways of raising billions of dollars pledged to help poor nations combat climate change, warning them of a 'long haul' as rich nations are hit by austerity cuts. Christiana Figeuras, head of the Bonn-based U.N. Climate Change Secretariat since July 2010, predicted there would be no new global treaty resulting from Cancun in December despite the Pakistan flooding and Russian heatwaves being "warning bells" about the risks of inaction. Cancun could at best end up setting a new deadline for working out a more binding deal by the end of 2012.

(pictured, Christiana Figeures, appointed Executive Secretary - UNFCCC.

)



Bolivia- April 20-22 2010:

More than 90 governments are sending delegations to Cochabamba, Bolivia's third largest city. Also expected to attend are scientists such as James Hansen, James Cameron, Noam Chomsky, and actors Danny Glover, Robert Redford and Susan Sarandon. Bolivian President Evo Morales will use the meeting to announce the world's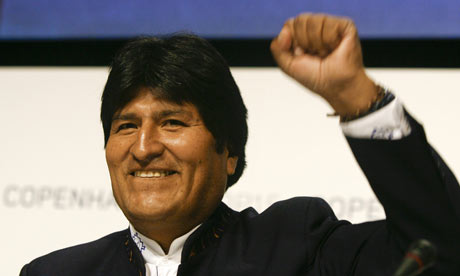 largest referendum, with up to 2 billion people being asked to vote on ways out of the climate crisis. Morales says it will give a voice to the poorest people of the world and encourage governments to be far more ambitious following the failure in Copenhagen. i"There will be no secret discussions behind closed doors. The debate and the proposals will be led by communities on the frontlines of climate change and by organisations and individuals from civil society dedicated to tackling the climate crisis," said Morales. link

Call for International Climate Court. Cochabamba conference closes with call for rich countries to halve greenhouse gas emissions and set up a court to punish climate crimes - link

Nearly 100 Countries Formally 'Associate' with Copenhagen Accord.
Since the Conference of the Parties neither adopted nor endorsed the Accord, but merely took note of it, its provisions do not have any legal standing within the UNFCCC process even if some Parties decide to associate themselves with it. … The accord is a political agreement rather than a treaty instrument.

The fact that so many countries have explicitly associated with the Accord (and at least as important, have submitted targets and actions) goes a long way to towards curing some of the procedural difficulties that surrounded the finalization of the Accord in Copenhagen. link

March 2010: China and India join Copenhagen accord. Since Copenhagen, there has been confusion over how a legally binding treaty to reduce greenhouse gas emissions can be achieved. All observers, including the UN's top climate official, Yvo de Boer, are now clear that no such deal will be signed in 2010, with a meeting in South Africa in December 2011 now seen as the earliest date. The US now appears isolated as India, China, and many other countries, firmly support the idea of continuing with the two existing UN negotiating tracks to try to achieve a consensus. link

February 2010: Fifty-five countries pledge to cut greenhouse emissions. Examination of the pledges shows that no countries have strengthened the commitments which they announced at Copenhagen and doubt that a deal can be agreed in 2010 still exists. link

January 2010: Investors with $13 trillion in assets call for governments rules.
The world's largest investors issue a statement calling on the United States and other governments to "act now to catalyze development of a low-carbon economy and to attract the vast amount of private capital necessary for such a transformation." Some 85% of the financial resources needed to cope with climate challenges must come from private sources. The U.S., European and Australian investor groups, who together represent $13 trillion in assets, called for "a price on carbon emissions" and "well-designed carbon markets" to provide "a cost-effective way of achieving emissions reductions." link